What is the difference between working and burst pressure?
Working pressure is the pressure you can operate with for a given specific type of tube. The burst is usually, depending on material, 3 to 4 times the working pressure and is the amount of pressure a tube would be able to withstand if there were a pressure surge on the air line. Both the working and burst pressures are given at specific temperatures. Ours are stated at 75F and 150F.

Can I use your tubing/hose for breathing under water?
No. Breathing underwater requires a certain type of certification that we do not offer.

Is your tubing flexible?
Four of the most common physical properties considered in the tubing selection process are flexibility, kink, resistance, and clarity and color availability. The OD, ID and wall thickness will impact these properties. Considering most of our tubing is flexible, the best way to fully understand the difference in flexibility and kink resistance is to compare samples. Learn more about our flexible tubing options.

Do you extrude silicone?
We do not have the ability to extrude silicone.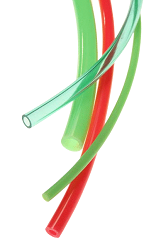 Are your products plenum rated?
None of our products are plenum rated.

Is there a difference between durometer and flexibility?
Flexibility is a subjective characteristic, impacted not only by durometer but also by the bend radius (which is a function of wall thickness and material properties). In other words, a softer durometer does not always equate with higher flexibility.

I need a tiny tube, smallest in diameter, to maintain its shape but easily bendable at the same time. What is the smallest diameter of these kind of tubes if you have it?
We recommend looking at our 1/8" OD x .066" ID polyurethane tubing. It is available in a variety of colors. It will flex very easily and return to its original form when released from the bent position.

Do you have a sterilization process for your tubing?
Our products are industrial grade products and we do not have a sterilization process.

Do you have a sample bag of your tubing that I could purchase and review?
We have sample bags of our products available which we would be happy to send to you. Please contact us to let us know where to ship the sample bag and either a UPS or FedEx account number for the freight charges.

Do you carry polyurethane tubing with O.D of 8mm and I.D of 6mm? Is the super soft nylon tubing as soft as the polyurethane one?
The soft nylon tubing is firmer than the polyurethane tubing we produce. We offer a 95A Durometer polyurethane tubing in 8mm OD x 5mm ID in a variety of colors. This product works very well with push-in and barb fittings. If you require 8mm x 6mm tubing it would be a custom extrusion. We would need to know if 95A polyurethane is the preferred product. We would also need the required color and purchase quantities you would require.

Do you carry tubing that is rigid but also flexible and can operate at temperatures of 200F and have a .25" ID and thin wall?
To answer this question, we would need to know a few more details such as: what will be running through the tubing? What is the external environment for the product, do you know what type of fittings will be used, what is your stiffness requirement? Email us these details and we'll recommend a tube for you.

Do you carry small, flexible tubing for scale modeling? Looking for 1/16 scale.
We offer a flexible polyurethane tubing with a 1/8" outside diameter and .066" inside diameter which comes in 50 foot lengths in a variety of colors.
In need of inexpensive 1/4" I.D tubing (preferably rigid, but not required) for one time throw away use in inserting expansive plastic insulation into 8' deep panels. What do you recommend?
We would recommend looking at our LLDPE products. To ensure our recommendation would meet your application requirement, we would need to know how the tubing is retained on the device. Some tubing, including LLDPE does not have enough 'give' to work well on a barb type fitting so this could be very important.

I am looking for tubing to use in a peristaltic pump to deliver poultry vaccine. The vaccine is oil in water emulsion.
We do not offer a product compatible for use with peristaltic pumps.
What is metric tubing?
Tubing manufactured to dimensions using the metric measuring system. Freelin-Wade offers metric tubing products in a variety of materials.
What is durometer?
Durometer is a measurement of the hardness of a material. Hardness may be defined as a material's resistance to permanent indentation. Developed by Albert F. Shore in the 1920's, the term durometer is often used to refer to the measurement as well as the instrument itself. It is typically used to measure the hardness in polymers, elastomers and rubbers. There are several scales of durometer. The two most common scales are shore A and shore D scales. The A scale is for softer plastics, while the D Scale is for harder ones. Rockwell R hardness is generally chosen for 'harder' plastics such as nylon and polypropylene. Often, durometer is confused with the flexibility of a material. Flexibility is a subjective characteristic, impacted not only by durometer but also by the bend radius (which is a function of wall thickness and material properties). In other words, a softer durometer does not always equate with higher flexibility. Freelin-Wade stocks 4 different polyurethane durometers: 70A, 85A, 90A and 95A. If you are looking for PVC tubing, we offer 5 different durometers: 65A, 70A, 80A, 85A and 90A. Please contact our customer service team if you have any questions.
Can you chamfer the end of cut tubing?
No, but thank you for asking.
Do you have flexible tubing that is compatible with oil and able to withstand 80PSI with an outside diameter of 5/32"?
Our polyurethane tubing would meet your requirements provided the temperatures are within range.