Wholesale Black Plastic Tubing
Ideal for applications such as pneumatic, hydraulic, food and beverage, or medical uses, wholesale black tubing offers the versatility and lightweight flexibility needed for a variety of industrial uses. As an innovative supplier of high-quality plastic tubing, Freelin-Wade supplies plastic tubing in a wide range of colors, making color-coding and identifying lines easy and simple.
With performance needs varying and largely dependent upon application requirements, selecting the right black plastic tubing material is vital for tubing to work at optimal levels.
Black Flexible Plastic Tubing Material Options
Our vast inventory of wholesale black tubing includes several flexible plastic tubing options, including:
Black nylon tubing is ideal for applications requiring a lightweight, corrosion-resistant metal tubing substitute. Heat-resistant and chemical-resistant, wholesale black nylon tubing works well for applications that require higher working pressures.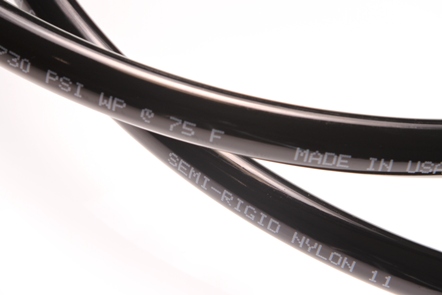 Also known as LLDPE tubing, black polyethylene tubing offers superior crack-resistance when compared to LDPE tubing. An economical choice for most applications, while maintaining good chemical resistance. Freelin-Wade's black LLDPE tubing also complies with all FDA regulations for food contact.
Black polyurethane tubing provides excellent flexibility and kink-resistance, especially for applications where leaks are cause for concern. Our Fre-Thane® polyurethane tubing will stretch, flex, and return to is original shape. Additional benefits include low gas permeability with chemical, oil, and fuel resistance. Our black polyurethane tubing is an excellent choice for industrial vacuum hoses, mechanical assemblies, and much more.
Freelin-Wade's black coiled tubing and black hoses offer versatile tubing options for pneumatic applications. Our high-performance black coiled plastic tubing is well-suited for a variety of applications, including food and beverage and medical uses.
If you cannot find the tubing you need in our selection, contact us to discuss
custom
black plastic tubing options. We can manufacture custom black plastic tubing in the exact size and shape that your application requires. Supplemental tubing services we offer, include:

Order Your Black Plastic Tubing Today
With over 40 years of plastic tubing expertise, Freelin-Wade manufactures high-performance wholesale black tubing for a wide range of industries. Our extensive inventory includes over 4,000 in-stock items. Our black tubing is available for immediate shipping. For more information,
contact us
or call us at
1-888-373-9233
.