Contact Us
Freelin-Wade wins the Outstanding Business Volunteer Program Award for 2012
November 9, 2012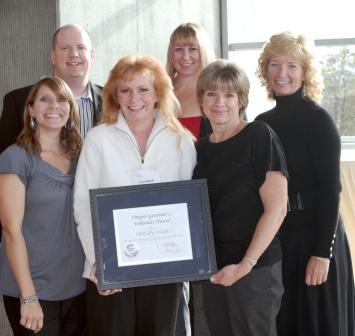 Freelin-Wade is pleased to announce that on September 21st it was awarded the 2012 Governor's Volunteer Award. As statewide winners, Freelin-Wade was honored with the Outstanding Business Volunteer Program Award at a luncheon ceremony on Friday, November 9th at the Salem Conference Center.
The award honors organizations from throughout the state for their commitment to serving Oregon and its people. Governor John Kitzhaber stated "These award winners represent the best of the state –people who give their time, energy, and resources to lifting up others and making Oregon a better place to live."
Nominations for the winners were received from all over the state and were carefully evaluated by appointed review committees. Freelin-Wade was evaluated based on many factors including their community involvement and commitment as well as employing a unique approach to solving problems.
Freelin-Wade is a manufacturer of plastic tubing and hoses. Founded in 1980, it now employs more than 100 people at a large manufacturing facility in McMinnville. Over the past five years, Freelin-Wade employees have raised more than $40,000 for local charities including Give a Little Foundation, Juliette's House, Relay for Life and The Willamette Valley Cancer Foundation. The passion to help others led to the creation of the "Freelin-Wade Force"- a team dedicated to promoting volunteerism and community involvement by Freelin-Wade employees. The Force has helped more than half of all employees become involved in some sort of volunteer work, from helping seniors to accepting leadership roles in local service clubs. Each year, employees select Chair Leaders to The Force, giving all employees a chance to develop leadership skills by planning community events throughout the year.
To make the greatest impact, each year, the committee selects one local nonprofit on which to focus all of the company's volunteerism, fundraising, and community-building efforts. As the recipient of the 2012 Outstanding Business Volunteer Program Award, Freelin-Wade will receive a cash grant to give to their charity of the year: the Willamette Valley Cancer Foundation.
Willamette Valley Cancer Foundation helps low income patients and their families through an individualized grant program that provides support for their unique situations. To learn more, please visit our website.