FDA-Compliant Food-Grade Plastic Tubing
Need some
FDA approved PVC
for the lines in your beverage dispensing tower? Do you need food-grade polyethylene for that commercial kitchen? Need some tubing safe for drinking water? Freelin-Wade carries a wide selection of high-performance food-safe tubing for all your food and beverage tubing needs.
For over 40 years, customers in the food and beverage industry have looked to Freelin-Wade to help solve their specific tubing requirements. Whether you need something that is FDA, NSF51, or NSF 61 compliant, we have the right solution for you.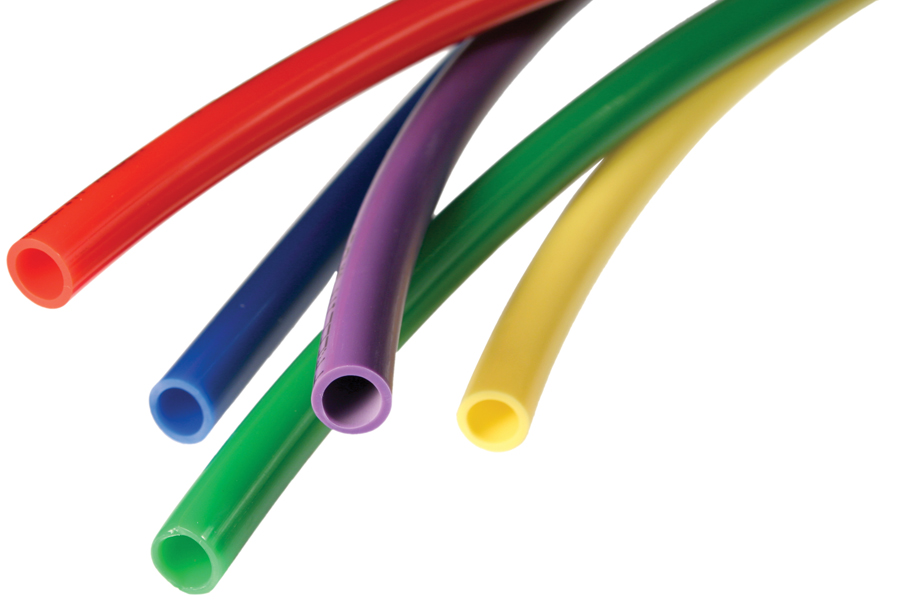 Food-Grade Polyurethane Tubing Materials
Freelin-Wade manufactures food-grade hosing that accommodates application-specific pressure and temperature requirements. Our extensive selection of food-safe, FDA compliant tubing includes polyurethane, polyethylene, nylon, and PVC tubing options.
Food-Grade Plastic Tubing Industry Applications
Flexible food-grade poly tubing is essential for a wide range of commercial uses, including:
Food and Beverage Dispensing Equipment - Flexibility, chemical resistance, FDA and NSF compliance, and high-performance are some factors to consider for food and beverage tube dispensing.
Beer and Liquor Dispensing – We have introduced a new EVA lined Polyethylene tube that excels within this application. You can find more information on this specialty product below.
Air Line Dispensing – Many production facilities require their air lines to be FDA compliant. Depending on your working pressure and temperatures, Freelin-Wade has an FDA compliant product to meet your air line needs
These are just a few examples of what we have and where it fits. We have been serving the food and beverage industry for more than 30 years and have a solid understanding of the intricacies of food manufacturing and the challenges you face every day.
Talk to a Tubing Specialist
EVA Lined Beverage Tubing
EVA lined beverage tubing
is flexible enough to make long runs and complicated installs seamless and easy. Freelin-Wade's EVA Lined LLDPE Beverage Tubing is manufactured with a thin layer EVA, which provides an unsurpassed vapor barrier that can be easily rinsed to transition to a new beverage or flavor with no residual flavor or odors left behind. The LLDPE outer layer makes working with standard fittings and tight spaces quick and easy. EVA lined beverage tubing is ideal for soda, beer, juice, and liquor.
EVA Lined LLDPE Tubing is used by commercial and retail venue beverage OEM's, installation companies, breweries, home brewers, and as a replacement tubing for many food and beverage systems.
Suggested EVA Tube Applications
Soda Dispensing / Syrup Transfer Lines
Liquor Transfer
Food Processing
Beer Tap Lines / Insulated Bundles
Juice Transfer Lines
Food Grade Oil Lines
Cocktail Mixing Units
EVA Tubing Specifications
EVA Tubing is Known for its high strength and flexibility
Temperature Range:
-40˚F to +150˚F
Diameter Tolerances:
±.005"
Tube Markings:
Freelin-Wade Markings
Working Pressure:
3:1 Safety Factor
Base Resin Compliance:
FDA Food Contact, NSF Compliant
Recommended Fittings:
Push to Connect
FDA Compliant Food Safe Tubing
At Freelin-Wade, we understand that if you're not able to maintain compliance with FDA standards, you'll lose your business – that's why we guarantee that our tubing meets regulatory standards such as:
USPVI
NSFSI
REACH
RoHS
NSF61
NSF51
Phthalate-free requirements
FDA guidelines include regulatory compliance for plastic materials intended for food equipment and food contact applications.
Discuss Your Food-Grade Tubing Needs with Freelin-Wade Today
If you don't see what you are looking for, reach out to your food grade tubing experts or call us at 888-373-9233. Our food-grade tubing experts can help determine which tubing material will be best suited for your application needs.