Contact Us
Freelin-Wade Force Raised $8,973.94 for Charity
January 9, 2013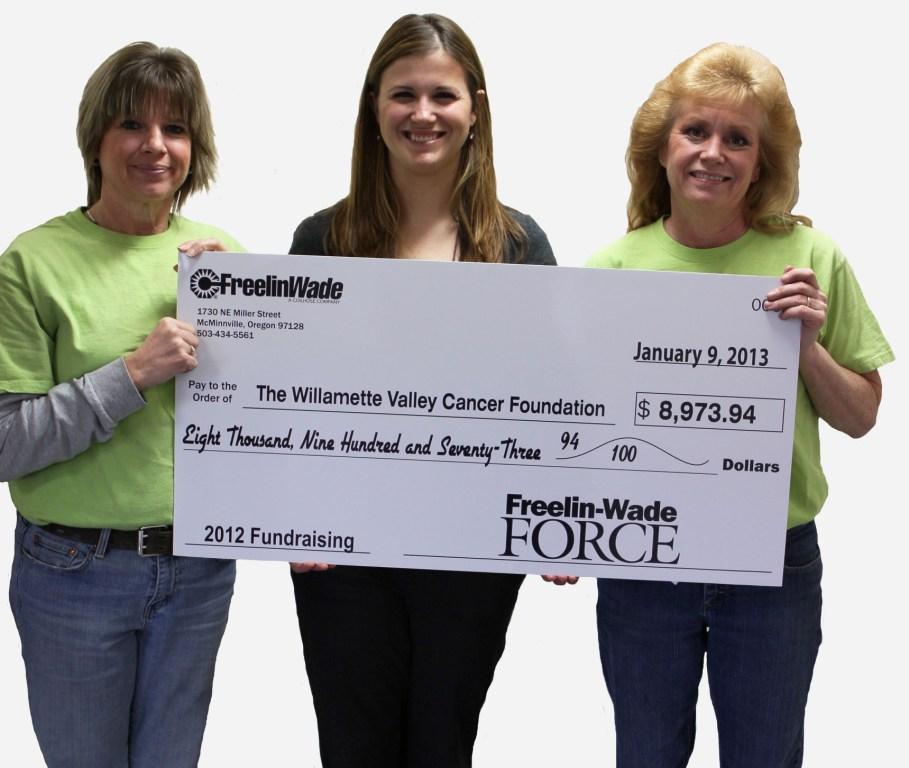 On January 9
th
Freelin-Wade FORCE presented a check for $8,973.94 to The Willamette Valley Cancer Foundation. The donation was the result of more than 15 fundraisers held by the FORCE team during 2012. The check was accepted by Willamette Valley Cancer Foundation's Executive Director, Kelly McGraw.
In 2004, Freelin-Wade employees formed a committee to expand community support and employee participation. The Freelin-Wade FORCE was born out of a passion to promote volunteerism and community involvement. By the end of 2012, 100% of all employees were involved in some sort of volunteer work. Each year, the Freelin-Wade employees choose a local nonprofit to be the recipient of all annual fundraising. Locals look forward to events such as the grilled prime sirloin steak lunches, ice cream socials and the annual civil war chili cook-off. And better yet, 100% of the all proceeds go to the chosen nonprofit.
Freelin-Wade Company
Freelin-Wade is North America's largest independent manufacturer of plastic tubing and hoses. Founded in 1980, it now employs more than 100 people at a large manufacturing facility in McMinnville. In 2012, Freelin-Wade was awarded the Governor's Outstanding Business Volunteer Program Award for serving Oregon and its people. Learn more at www.freelin-wade.com.
Willamette Valley Cancer Foundation
Willamette Valley Cancer Foundation was established in 2002 to assist cancer patients locally in Yamhill, Tillamook, and Lincoln counties. Cancer puts a strain on people's health, finances, and family life. Through donor and volunteer generosity, the Foundation supports those brave patients in their fight against cancer. The Foundation assists patients by providing grant assistance to help ease the financial burden while they are undergoing treatment, so they can focus on getting healthy and adapting to the change (www.willamettevalleycancerfoundation.org).